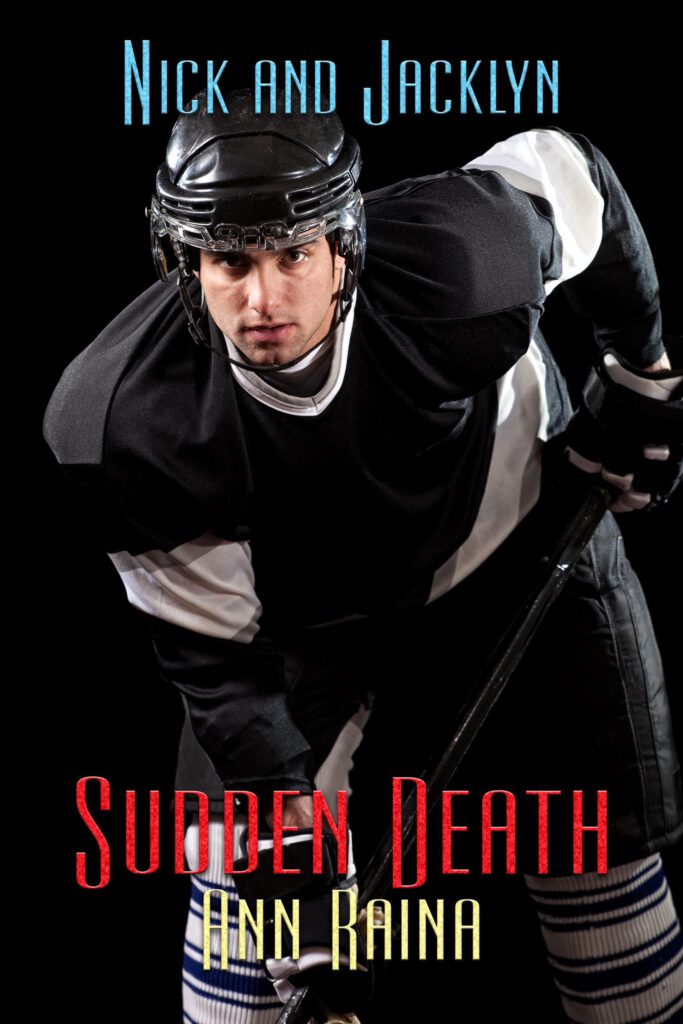 Buy at Extasy Books, Amazon, Barnes & Noble and Kobo

ISBN: 978-1-4874-3644-5

Formats: PDF, PRC, EPUB, MOBI

Description

You can only have fun if others let you.

The serial killer's intention seems clear—murder as many hockey players as possible and cripple the teams.

The FBI team is hunting a ghostlike murderer who doesn't leave any traces. But then the attempted murder of hockey star Wright changes the direction of the investigation.

Anderson Wright just wants to play hockey, but a criminal kidnaps and tries to kill him while he's vacationing with his girlfriend in the Monongahela National Forest. He survives due to FBI Agent Nicolas Hayes's courageous actions that save his life. The motive and the resources of the attempted murder remain a mystery.

While the team of FBI agents investigate, three young and talented hockey players are brutally killed, just as they were on the cusp of starting great careers. Public pressure on the agents mounts as all hockey players and their crews fear that the killer will strike again. Still, the murderer leaves the crime scenes without tangible clues to his identity.

On a private level, Nicolas faces his mistress's growing demands for their love life and has to decide whether to follow her kinky wishes or deny her desires.

Excerpt

Though the arrogant bigot Brent Chaswick, a slightly overweight, half-bald and fully arrogant manager in his mid-fifties, could use a hundred-dollar bill to light his cigarette, he owned an old alarm system and neither cameras nor dogs to secure his overpriced property. Danny Jerulow needed ten minutes to get into the house, even though his hands were slightly trembling. He knew the floor plan. He had been here before. One time only, and the memory wasn't a pleasant one, for his visit had not delivered the desired result.

In his snotty accent, Chaswick had claimed in words that nourished hope that he needed more time to convince his partners of Jerulow's value for their team. In the end, Chaswick had told Danny that the choice had been made—but not in Danny's favor. Chaswick, that damn liar, was a walking flowery word machine.

The verbose explanations for not having reached a decision in Danny's favor and the hollow promise to call him again if the two team owners changed their minds added fuel to the already smoldering hatred Danny had developed against everyone with influence and money in the business. Everyone he spoke to failed to recognize Danny's talent. They dropped him, neglected his qualities, and belittled his plea to give him a chance, mostly by stating that he did not show the virtue needed to be a top player. Other hockey players made careers, passed him by, went ahead with their lives, bathed in the limelight of success, and adorned the covers of sports magazines like freaking Hollywood stars.

Danny didn't want to think about them now. Could not think about them. His trembling increased. He had to stay focused. Concentrated. He was here to show Chaswick that his dastardly behavior had consequences. Yes, really bad consequences.

The word had an enormous impact.

Consequences. Danny shivered, though it was pleasantly warm in the big kitchen. Breathing deeply, Danny dropped the thought of the word's origin and went to work.

Chaswick had claimed that the interior of the kitchen looked like it was from the early twentieth century, but that was just its appearance, created because it reminded Chaswick of his grandma's kitchen decoration. He'd rambled about grandma's delicious cookies and unrivaled tasty pastries and whatever else. The oven, like the other devices in the cozy kitchen, was state-of-the-art and in good repair.

Danny pulled it toward the center of the room to open the valve of the gas pipe, making sure the pipe would remain silent. Any hissing sound would raise Chaswick's suspicions.

Danny's plan was simple, as all good plans were, and he had thought about it long and carefully. Chaswick was a heavy smoker. Back then, Danny and the two other guys—competitors more likely—had sat in the same roomy kitchen, drinking coffee and talking shop, and Chaswick had hardly been seen without a cigarette between his lips. He had confessed that he kept the rest of the house smoke-free, but the kitchen was his hideaway. He could open the door to the patio and let the smoke escape quickly so that his girlfriend—twenty years younger and fairly pretty—wouldn't complain too much.

Danny hoped she wouldn't be on his arm tonight when he came home.

If so, it was a pity. Collateral damage, as the newspapers called it sometimes. He also knew a movie by that name.

Danny didn't intend to kill anyone else except Brent Chaswick, the traitor, the fucking smiling manager, who sugarcoated a lie so that it sounded like a pleasant piece of information. However, Danny didn't care much for the girl. If she liked Chaswick so much that she shared his home, she was of the same kind.
Vicious. Malicious. Malevolent. Treacherous.

He had looked up all those words. He knew many more and recited them while he pushed back the oven and stood in the kitchen, listening to the silence. He had done it right. There was no sound of hissing gas.

When he knelt to wipe away the stains from the oven on the tiled floor, he heard a big car coming up the driveway, its engine roaring. Danny looked across the patio, stunned by the early arrival. It was no doubt Chaswick's brand-new BMW M5 SUV, a monstrous vehicle that parked in front of the kitchen entrance.

Kneeling on the floor, Danny froze with the cloth in his hand, unable to decide where he should go. He held his breath. His heart thudded in his throat so fast, he feared it would jump out through his mouth. The break-in had been so easy. He had planned it to the last detail. He would escape from the house through the kitchen, leaving no trace of an intrusion, not even on the floor, for he would have mopped it. The plan had been perfect, yes, without calculating that this one night Chaswick returned too damn early from his poker game. The fucking manager had probably lost a hundred grand and left because he didn't want to lose more.

The neon-bright lights of the SUV went out. In the darkness, Danny got up, stuffed the cloth in his jacket pocket, and turned to head for the living room, knees weak and his breath coming in short rasps. He suppressed a whimper. The exclusively furnished room had another door that led across a large porch to the garden and back to the street where he had parked the stolen car. He made two steps in the direction and heard three voices—Chaswick, that damn fucker, had not come home alone! There were male voices! He had brought company and not his girlfriend.