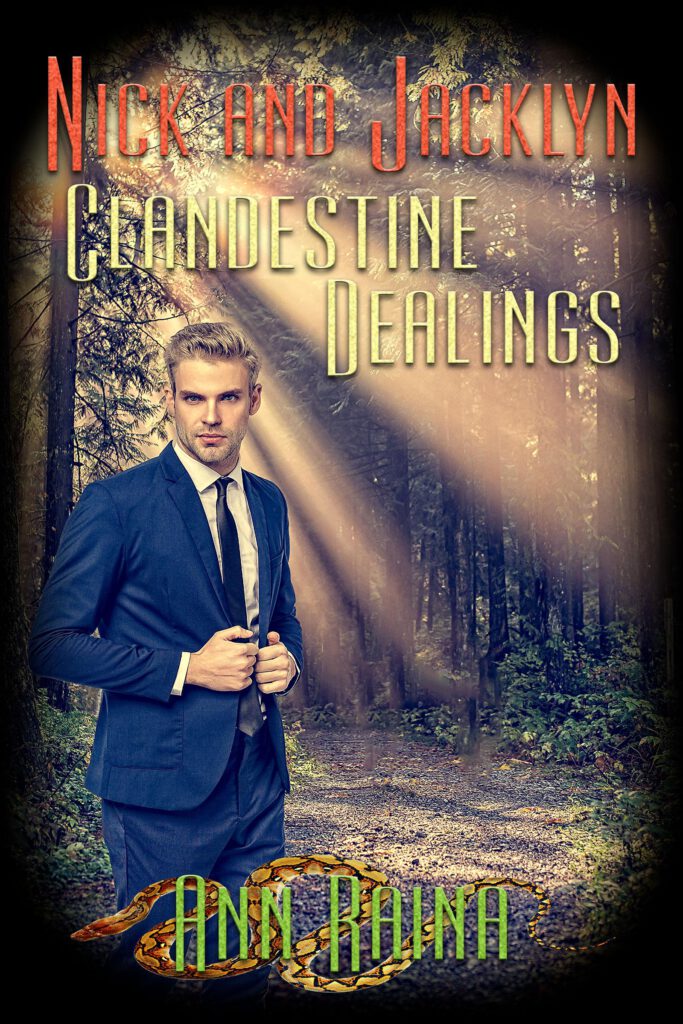 Buy at Extasy Books, Amazon, Barnes & Noble and Kobo

ISBN: 978-1-4874-3488-5

Formats: PDF, PRC, EPUB, MOBI

Description

FBI Agent Hayes is confronted with a serial killer whose killing spree started in Florida and continues in Virginia. When the investigation stalls, Hayes has to resort to unusual measures in his effort to identify the killer. Can he get to him before he strikes again?


FBI Agent Nicolas Hayes and his team are confronted with a murder series that started in Florida and continues in Virginia. When a wealthy company owner is poisoned to death at a party in Washington, DC, the agents investigate whether there is a connection between the victims. The killer is a master of disguise, and when the investigation stalls, Hayes needs the help of his lover and her friends to track down the culprit.

Umberto, a crime syndicate bruiser, shares his home with Michael, a dancing instructor. Their happy life is interrupted by the death of Umberto's boss, the mighty businessman Eduardo Vianone. Umberto has to move to DC to serve Eduardo's younger brother, Luigi, and his gang of thugs. His allegiance is put to the test when Luigi announces that he will expand his brother's enterprise along the East Coast and expects Umberto to clear the way. To his chagrin, Michael is also very curious about what his friend is up to and is not easily pleased.

The hunt is on when the FBI suspects Umberto of being involved in the murders. Will Agent Hayes find the true killer before he strikes again?

Excerpt

On the first of June—as on every warm summer morning—Eduardo Vianone sat at the pool of his residence close to Miami studying the newspaper, drinking his protein shake with strawberries and yogurt, and reminiscing about his family situation. He was thinking about how he could hand a part of his business to his younger brother, Luigi, without looking senile. After all, he was seventy-one and still had his wits together. If he retired from business without a plausible reason, competitors would smell weakness. He could not afford losing the empire he had built over forty years. The thought of losing face made him uneasy.

Without a solution at hand, he emptied the shake, folded the paper, and dropped his robe on the way to the pool. It was ten o'clock in the morning and already hot, and he longed to dive into the cool water to relax and, hopefully, gain new insight on how to proceed.

His younger brother, Luigi Lou Vianone, lived in the suburbs of Washington, DC, and ran his own business—racketeering and drug dealing, mostly. As far as Eduardo knew, Luigi was involved in the construction trade, too, and strove for expansion. Though it seemed wise to give up the leading role at his age, Eduardo hesitated. Luigi had never been the most successful executive. He had a temper that was hard to control, and since his business transactions lacked wisdom and foresight, he tried to compensate with rough retaliation. Eduardo doubted his brother would change his behavior once he shouldered a greater responsibility. He had been impetuous as a child, and unfortunately, that had not changed in adult life.

Eduardo decided to reach out to him for a conversation. After that, he would know better whether to hand him the honor of leadership or not. If he decided against giving his brother control over a part of the business, it would be wise to choose his successor from the most influential personalities in his large and complex company. It would have to be a man with enough stamina to stand up against Luigi, if need be. He had a loyal man in mind, a man of trust and resilience, a man with years of experience—tough but clever. He was the only serious rival to his brother, and he had known him for years. Eduardo knew he had to come to a decision, and the longer he pondered, the more he favored splitting his business and selecting two men instead of one. It could be considered a kind of sport—a competition of the fittest.

Slowly, for the water was cool, Eduardo entered the pool. His heart was beating fast, and his breathing accelerated as he pushed off the ground at the steps and swam toward the center. He turned on his back and squinted against the sunlight on yet another bright day with blue sky. Though the beach wasn't far away, he preferred the tranquility of his residence, where only a few employees were working and no one bothered him. They all knew that Eduardo cherished his solitude and wouldn't tolerate any disturbance. Later in the day, he would be happy to attend to the needs of his customers.

Eduardo swam to the rear end and back the same way. His mouth was dry and increasingly numb, and he licked his lips, pondering whether the shake had been off. While he continued his exercise, his face started itching, and the numbness spread from his head to his arms. His throat constricted, and when he opened his mouth to cry for help, he had no voice. Fearing that he was suffering a heart attack, for his heart was beating frantically, Eduardo tried to reach the steps and climb out of the pool. His arms didn't obey, breathing became difficult, and then his legs stopped working. Eyes wide with terror, he was unable to swim. Eduardo's head went under water. He made a last, feeble attempt at reaching the surface, hoping the butler would show up to clean the table, but it was too early. Eduardo had made it explicitly clear he didn't want to be bothered at the pool. His rules were law to the bitter end.

Eduardo looked up at the sun and the blue sky of southern Florida and thought that his life had been a good one and yet too short.